!It's time the North has a truly strong lobby
We are here to utilize our great number within the Israeli population into real power in the Knesset and the government, and once and for all
!have the North and us, its residents, bloom
The Association for the Advancement of the North LTD is a non-profit organization (NPO no. 516503471).
It was established in late 2021 by eight graduates of the Mandel Center for Leadership in the North, who realized that a change is needed in the way the North of Israel is perceived. We have realized that the Israeli government is under-investing in the development of the north and unless tens of billions of shekels are invested here soon, the state of medicine, economy, livelihood, education, infrastructures, and Jewish-Arab relationships in the North, will never reach its full potential.
Unlike other civilian organizations, we argue and know that the only way to affect real change begins and ends with Israeli politics. More precisely, we realize that inner-party politics and inner-party forces within any one of the parties in Israel today, are the main cause for the distribution of resources and to how each party "chooses its battles".
Our plan is to have a mass movement of residents of the North of Israel take up membership in the various parties in Israel to the left and right sides of the political map. We do not advocate voting to one side or another, or to a specific party, but simply to become members in various parties.
The more people of the North united under us there will be in any of the parties, the stronger and more significant players we become within them, to such an extent that the various parties, Knesset members and ministers would invest their time and efforts to appease us and generate decisions to be made in favor of the North, including proper budgeting and realization of promises made as well as budgets allocated.
We believe that with 250,000 USD a year, used for a media campaign, protest support, and holding local cultural events, we can raise more than 10 billion NIS a year for the North, within the government's budget.
We are already hard at work to have billions put aside in the upcoming budget allocated for use to prepare for the event of an earthquake in the North, executing the rail line and airport in the eastern Galilee region, budgeting main roads in the North, and investing in Northern industries and high-tech.
We would love any and all assistance in this great undertaking we have taken upon ourselves.
For further information:
Idan Lev-Ran, Chairman and CEO of the organization
Main Goal
To create a huge political force, made up of tens of thousands of residents of the North of Israel within the various political parties in Israel. A force which would lead to a critical mass of northern members of Knesset in the long run, to enable implementing and executing decisions and allocations of many funds to benefit the North
2022 Goals
1. To map out all party members in the various parties and recruit their support of the organization.
2. Establishing cells for the advancement of the North within each of the parties in the Knesset.
3. Encouraging 10,000 northern residents to become members of various political parties (in addition to already existing members) and making them an active part of the cells for the advancement of the North.
4. Establishing additional direct connections with members of Knesset and government, to encourage the realization of previous decisions on behalf of the North and promoting new decisions, as was written by the Galilee Council.
Agenda for 2022 – projects (by order of importance):
1. Local media campaign. Necessary funds approx. 280,000 NIS (~85,000 USD).
To make those residents of the north who are not involved in politics decide to take part and become a party member, a "party membership" campaign is needed. Such a campaign will include advertising in various media, including social media, local printed papers, billboards, local radio stations, and different TV channels. Without a north wide campaign, it will be very difficult to meet our objectives.
Schedule – campaign to begin in July and end in October.
2. Holding protests for 'hot' issues. Necessary funds approx. 110,000 NIS (~33,000 USD).
An important way to create a media buzz and enlist people to become active is through protest. We will hold a number of initiated protests during the course of the year on 'hot' issues, which are critical for the people of the North. In favor of such protests, we will need buses, signs printed, shirts and so on.
Schedule – will be adapted to the current situation on the field. Emphasis on protest July – October.
3. Cultural events and Concerts for the under 40. Necessary funds approx. 280,000 NIS (~85,000 USD).
We would like to brand party membership as something fun and view concerts and other cultural events as a great platform to promote party membership during such events. We will act to join existing events as sponsors and will hold one major event designed for residents of the North, during which the various cells within the Israeli political parties will hold membership campaigns.
Schedule – all events to take place July – October.
4. Tours for Knesset Members and Ministers. Necessary funds – approx. 40,000 NIS (~12,000 USD).
To strengthen connections between residents of the North and Knesset members and ministers, we will hold several regular tours of the North for MK's and Ministers. During such tours, we will present the current situation in real time, in order to strengthen their connection to the North and so have them work in our favor.
Schedule – tours to be held October – November.
5. Student Activity in Northern Colleges. Necessary funds – approx. 56,000 NIS (~19,000 USD).
Throughout the year we will work to create AAN political cells within each of the colleges in the North. We will act to gain entry to lessons, where we could create panels and debates between students on the hot issues for the North. With the required funds we could promote about 100 meetings such as this.
Schedule – activity to start in October 2022 throughout the school year to follow.
6. Educational activities at schools. Necessary funds – approx. 60,000 NIS (~19,000 USD).
We will try to gain entry to high schools around the North, as part of civics, diplomacy, and sociology lessons, so as to explain and encourage membership in political parties. We will hold panels and debates using existing debate teams and will strengthen political involvement by high school students for the advancement of the North.
Schedule – activities to begin in October 2022, throughout the following school year.
All activists in the AAN do so completely voluntarily. The AAN does not have paid employees at this stage.
2022 Budget Plan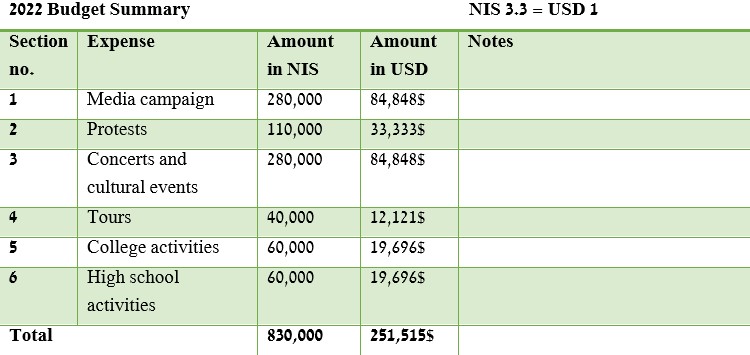 For further information:
Idan Lev-Ran, Chairman and CEO of the organization